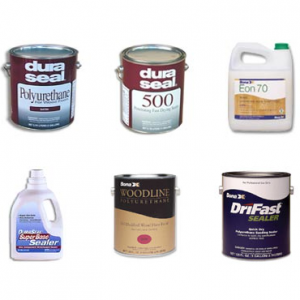 We carry a great selection of finishes and sealers. DuraSeal Polyurethane finishes and Oil-Based stains. Bona® Traffic™, Eon-70, Mega™, Strong™ Bonaseal® – waterborne finishes. Also, Bona® oil-modified finishes and sealers such as DriFast™ Quick Dry sealer and Woodline® Polyurethane finish.
DURASEAL OIL-MODIFIED POLYURETHANE
A transparent, tough, oil-based finish formulated to provide excellent durability and remarkable stain resistance. Polyurethane gives wood floors depth and richness while protecting them from dint and spills.
DURASEAL OIL SEALER
Fast and quick drying sealers. Penetrating sealers designed to, quickly and conveniently seal wood floors to prepare them for finishing.
BONA WATERBASED POLYURETHANE
Environmentally responsible waterborne finishes enable you to get back onto your floor much faster than conventional products. Giving you the benefit of a clean environment while reducing the possibility of long-term health risks.
FINISHES & SEALERS: DURASEAL WATERBASED SEALER
Water borne sealers are fast-drying, crystal clear, and formulated to provide an outstanding base coat.
WOODLINE POLYURETHANE
A premium, oil-modified wood floor finish formulated for interior use on residential and commercial wood floors. Available in: Gloss, Semi-Gloss, Satin. Packaging: Quart
SUPPLIES: FINISHES & SEALERS
Bona DriFast Quick Dry Oil Sealer
Bona® DriFast Quick Dry Sealer – Oil Modified System Products