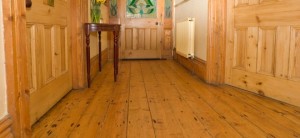 Why Hardwood Floors? Five Reasons to Opt for Hardwood
Hardwood floors can truly make all the difference in the world when it comes to your home decorating plan. They can create an aura of warmth and sophistication; they are versatile and durable; and they are hypo-allergenic and environmentally-friendly. But that's not all. Read on to discover top of the best reasons to choose hardwood flooring for you interior designing needs.
1. They are Versatile
Because hardwood floors look good in all rooms, from your living room to the dining room, from the bedroom to even the bathroom, they can compliment any home décor. Furthermore, they give a timeless look that can add a perfect backdrop to any interior decorating design. They look incredible underneath a large rug and can exert a sense of style and elegance under the right surroundings.
2. They are easy to maintain
Many people are surprised at how easy it is to clean hardwood floors and keep them looking new. In fact, all it takes is a quick vacuum or broom, and then mop with floor cleaner and you're done! No muss, no fuss, especially compared to carpet.
3. They add value to the home
Hardwood floors are one of the most preferred flooring in all homes. Because hardwood floors are so durable and long lasting, they can increase the value of your home. In fact, according to a recent survey done by the National Wood Flooring Association, real estate agents agree that homes with hardwood flooring sell the fastest.
4. They are beneficial to your health and the environment
Another great thing about hardwood floors is that they are hyper-allergenic and completely natural. Dust and other irritants such as cat fur cannot get caught in hardwood floors like they can in carpeting. Furthermore, hardwood floors do not need expensive chemicals to clean them which can be potential dangerous to both your lungs and the environment.
5. There are so many different options
Finally, the great thing about hardwood floors is that they come in a wide range of styles and varieties to suit your decorating needs. There are solid, engineered and acrylic floors. Solid wood floors come from ¼" to 25/32″ while engineered wood flooring are made of various layers alternating with grain. Engineered wood floors are often used where solid wood floors are not usually installed such as bathrooms. Acrylic impregnated wood floors are injected with wood grain and acrylic material. Furthermore, hardwood floors can be made of oak, beech, maple, cherry, ash and other gorgeous timbers.
In regards to hardwood floor styles, there are strip wood flooring, plank wood flooring and parquet wood flooring. Strip wood and plank wood flooring both have a lineal tongue and groove composition but plank wood is often larger strips. Parquet, on the other hand is wood made into geometric patterns.
Another great option when it comes to hardwood flooring is an area rug. Match the rug to your inner décor including pillows, carpets and curtains. A hardwood floor can be the perfect finishing touch to your home decorating dreams.

---
K Custom Flooring provides professional
hardwood flooring
– both installation and refinishing. We are dedicated to fulfilling our customers hopes and dreams for their floors. Whether that is through refinishing and restoring the beauty of a floor that has seen decades of use or installing a new floor that will add the change needed to make someone's house become a home.
Source: http://www.submityourarticle.com
Permalink: http://www.submityourarticle.com/a.php?a=59315
*The opinions expressed are those of the author and not those of Floorhardwoods. Articles are provided as a convenience for our customers