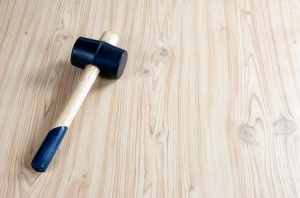 Solid hardwood floors can add a shimmer and shine to any room. However, it's important that you understand how to install and care for this type of flooring. It's also important that you understand the different types of hardwood flooring out there so you can weigh your home decorating options.
Installation:
When installing solid hardwood floors, it's imperative that they never be installed over a concrete slab or below ground level. This is due to high moisture sensitivity. Installation of solid hardwood floors over concrete and in high moisture areas can result in floor gaps as the floor expands to the moisture. In some instances, the wood planks may even buckle under the moisture's pressure.
When installing hardwood floors make sure you leave enough room for expansion. It's a good idea to use solid wood that is acclimated and nail-down installations.
Styles:
Solid hardwood floors are made out of a variety of beautiful timber including ash, maple, red oak and white oak. These different types of wood offer various colors and looks. Furthermore they can be re-coated and refinished to increase the appearance of these beautiful wood floors.
Essentially there are three sub categories when it comes to solid hardwood flooring: strip flooring, parquet flooring and plank flooring. They vary in style and thickness. Strip solid hardwood flooring comes in variety thickness including 5/16″, ¾", 1 ½", 2″ and 2 ¼". Plank flooring, on the other hand, are thicker usually between 3″ and 8″ while parquet flooring has geometric patterns on the wood slats.
Hardwood floors also come in hand crafted hand-scraped designs which have character markings and add an even more unique look to your home. These types of floors come in both a modern world look and an old look in finish designs. You can get hand-scraped designed in both solid and engineered types of hardwood floors; however, keep in mind that this can get a little expensive but they can offer a beautifully rich look to any home.
Cleaning:
When it comes to keeping your wood floors looking like new, there is not much to it. In fact, hardwood floors are one of the easiest surfaces to keep clean. First and foremost you will need to use a vacuum cleaner or a broom to get rid of the dirt and debris. Then you will use floor cleaner directly onto the surface of the floor or onto a soft mop. Next, mop away. Make sure the floor is left with a dry finish and you're done.
To ensure your hardwood floor remains clean, set up a welcome mat to wipe off excess dirt, ban shoes (and muddy dogs) from entering the house and choose furniture that does not have sharp metal or wooden legs to prevent scratching. To really keep your hardwood floors looking their best, invest in rubber cups for moving heavy items and always clean up the spills as soon as they happen.

---
K Custom Flooring provides professional
hardwood floor
installation and refinishing. We are dedicated to fulfilling our customers hopes and dreams for their floors. Whether that is through refinishing and restoring the beauty of a floor that has seen decades of use or installing a new floor that will add the change needed to make someone's house become a home.
Source: http://www.submityourarticle.com
Permalink: http://www.submityourarticle.com/a.php?a=59313
*The opinions expressed are the opinions of the author and not Floorhardwoods. We hope you enjoyed this article!