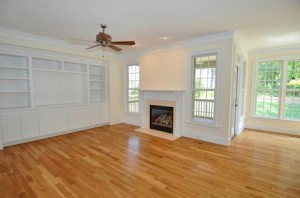 Hardwood flooring provides a sense of homeyness, warmth and permanence as well as structural strength, old-world reliability and a strong selling point for your home. If you have selected a solid hardwood floor as your flooring solution, you have a choice between unfinished and pre-finished wood.
Pre-finished hardwood is a good choice if you want to enjoy the benefits of your new floor immediately after installation without having to do any sanding or finishing. Pre-finished wood floors come pre-coated and pre-sanded and are ready to install. Installation takes less time, effort and energy, and no time is required for setting.
With an unfinished floor, the finish is added over the hardwood floor surface as a whole after installation of the boards. Pre-finished floor boards, however, are finished on a board by board basis, and the finish that seals the board will not seal small spaces between the planks in the same way. Applying finish over an unfinished floor will yield a more uniform finish and a better moisture-proof seal. This valued characteristic is why many subcontractors will choose unfinished hardwood floors.
So how do you decide between pre-finished and unfinished hardwood? Homeowners who want to do a quick installation and without having to vacate the house should choose a pre-finished hardwood floor. You will not have to tolerate the fumes of the finish or clean up the mess created by the sanding process. Subcontractors will probably prefer an unfinished floor as they can achieve a more uniform finish as well as added moisture protection from the overall sealing process on the whole floor. You will, however, need to determine which finish or stain is most appropriate for the type of hardwood you selected. Whatever your choice, you are certain to enjoy the added structural benefits along with the attractive look and feel of your hardwood floor for a very long time.
Pat Michael writes about flooring at LaminateFlooringConcepts.com and at TheHomeImprovementIdeaPlace.com.
Article Source: http://EzineArticles.com/?expert=Pat_Michael
*The opinions expressed in this article are those of the author and not Floorhardwoods