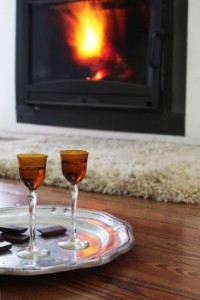 Hardwood flooring has become very popular in recent years. Although many still consider it as an expensive option when building or renovating, its beauty and durability have made it a favorite by many and more than worth the cost. With proper care and maintenance, hardwood flooring can last a lifetime, making it one of the wisest investments you can make in your home. Unlike carpeting, which needs to be replaced when worn, hardwood flooring can continue to add beauty and value to your home. Although caring for your hardwood flooring may entail just routine mopping and waxing occasionally, the winter months may require more care to keep it looking good.
Taking Care of Humidity
Wood flooring can be very susceptible to expansion and contraction if the humidity in your home is not just right. Winter time can be very hard on your hardwood flooring because of the excess dryness in your home caused by central heating. This dryness can cause a lot of shrinkage with your flooring. When shrinking occurs, you may see unsightly spaces between your boards. At the same time, during the time of year where your home will experience excessive dampness, your hardwood floor may expand. Both of these conditions can be harmful to your flooring and affect its appearance and durability. A humidifier and dehumidifier are great tools to prevent both of these problems. Keeping your humidity level from 40% to 60% year round will be very beneficial to your hardwood flooring.
Eliminating the Elements of Winter
As harmful as improper humidity can be for your hardwood, there are few things that can do more damage to your hardwood flooring than water damage, specifically the water from rain, snow along with the dirt, salt and gravel that may be dragged into your home. As much as many people love winter and the snow that comes with it, keep it outside and not on your flooring. Although we love having salt on our sidewalks to prevent slipping, this salt and grit can cause scratching and nicks on the floor if it's brought in on your boots and shoes. Excessive water being dragged in on our shoes can also cause problems by causing the floors to warp, which can cause gaps to develop between the boards.
While you may not be able to keep all the snow, dirt, salt and water from coming into your home, you can protect it from getting on your hardwood flooring. Floor mats will do a lot towards protecting your floors from getting wet in the winter. Having your family members and guests remove their shoves when they enter your home will help as well. Most guests that see shoes sitting by the door when they enter your home will automatically take off their shoes as well. However, occasionally you're still going to have some guests that will not take off their shoes, which is where the rugs and mats will come in very handy so they can wipe their shoes. If you have pets in your home, train them to stay on the mat until you feel they're dry enough to be on your floors.
Cleaning Your Hardwood Floor in Winter
Even by taking the best possible care for your hardwood flooring, you're still going to find that it needs a little more care in the winter months. Mopping it a few times a week with a slightly damp mop will only take a few minutes but will ensure that your floor is clean and free from the nasty elements of winter. To ensure your flooring is getting the best protection, you may also want to put a protective coating on it to give it that natural shine you've come to love about hardwood flooring.

---
K Custom Flooring provides professional hardwood floor installation and hardwood floor refinishing. Specializing in
Wide Plank Flooring
and
Antique Wood Flooring
. We are dedicated to fulfilling our customers hopes and dreams for their floors. Whether that is through refinishing and restoring the beauty of a floor that has seen decades of use or installing a new floor that will add the change needed to make someone's house become a home.
Source: http://www.submityourarticle.com
Permalink: http://www.submityourarticle.com/a.php?a=53943
*Opinions expressed are the opinions of the author and not Floorhardwoods. Articles are provided as a convenience to our customers.